Explore

Search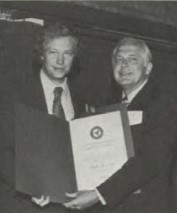 Robert L. Lichten Award 1976 at Annual Forum 32 to Thomas W. Sheehy
Mr. Thomas W. Sheehy was awarded Robert L. Lichten Award at AHS Annual Forum 32, 1976. His paper was "A General Review of Helicopter Hub Drag."
License: All Rights Reserved (contact VFS for usage specifics)
Login needed
To use all the features of this site you must be logged in. If you are a VFS member and would like an account, please contact us.