Explore

Search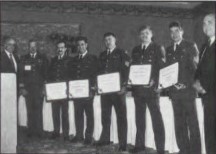 Kossler Award 1997 to the Canadian Air Force's 413 Squadron, Labrador 303, at Forum 53
Captain William J. Kossler, USCG Award this year won by crew members of the Canadian Air Force's 413 Squadron, Labrador 303, which performed the successful rescue of the crew of the 35-foot sailboat, Alexis Le Trotteur. The award presented at annual Forum 53, April 29-May 1, 1997, Virginia Beach, Virginia USA.
License: All Rights Reserved (contact VFS for usage specifics)
Login needed
To use all the features of this site you must be logged in. If you are a VFS member and would like an account, please contact us.